What does Saigon have? Saigon has a bustling Nguyen Hue pedestrian street, a coffee culture, a crowded West Bui Vien street, a skyscraper Bitexco building, sleepless nights,… Besides a bustling Saigon Thus, "Xi Street" also has an ancient, peaceful and beautiful Chinese Quarter like in Hong Kong movies. Besides the modern restaurants, there are still very "Saigon" shops. Let's go to Saigon for a day!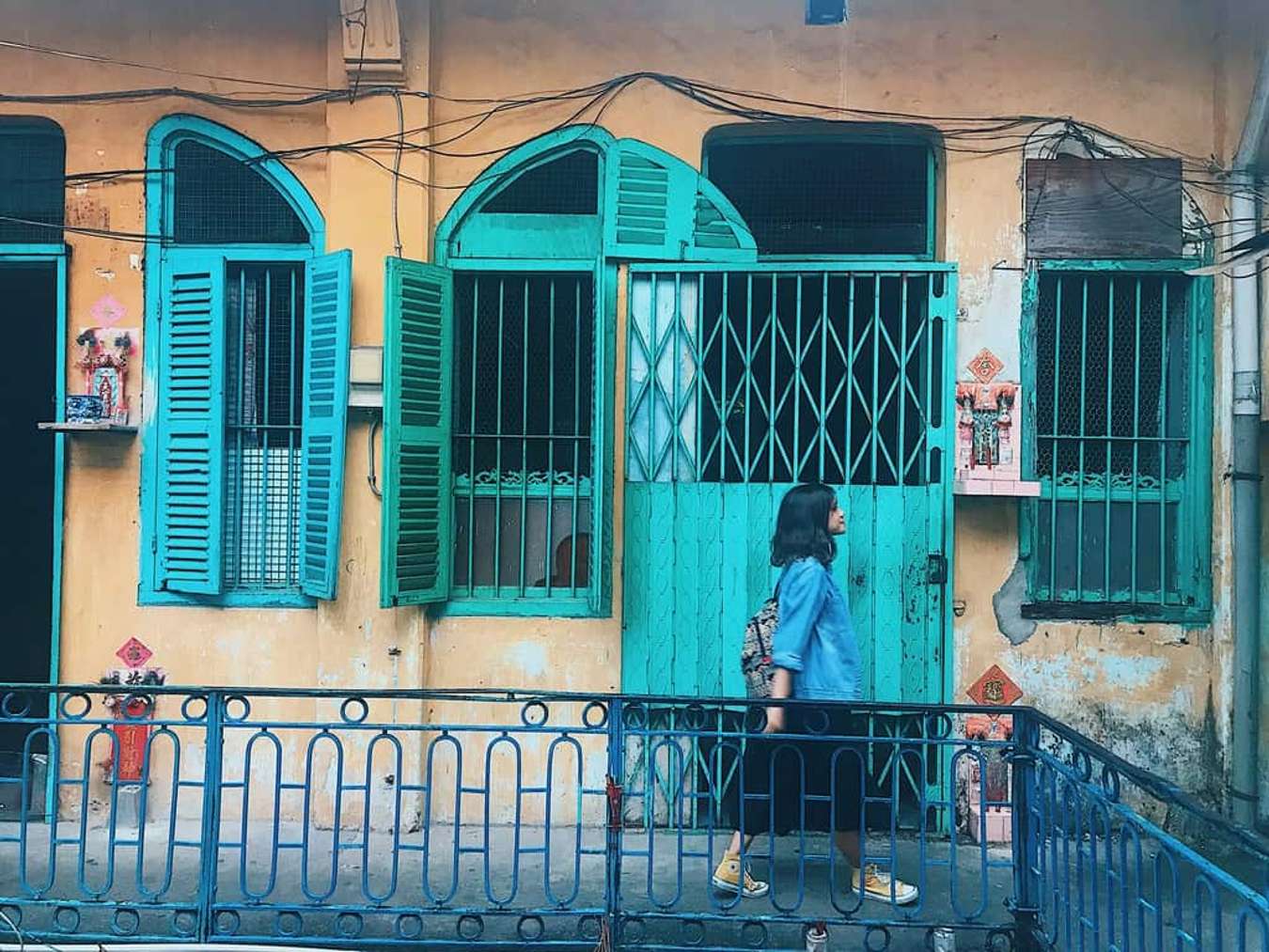 1. Fresh milk Mười
Address: No. 10 Phung Khac Khoan, District 1.
Time: The shop starts selling from 5 am to 2 pm.
With the whisper of a friend from Saigon, we woke up early in the morning to visit Muoi fresh milk. Saigon people, who live in Saigon, there is no one who does not drink fresh milk at least once.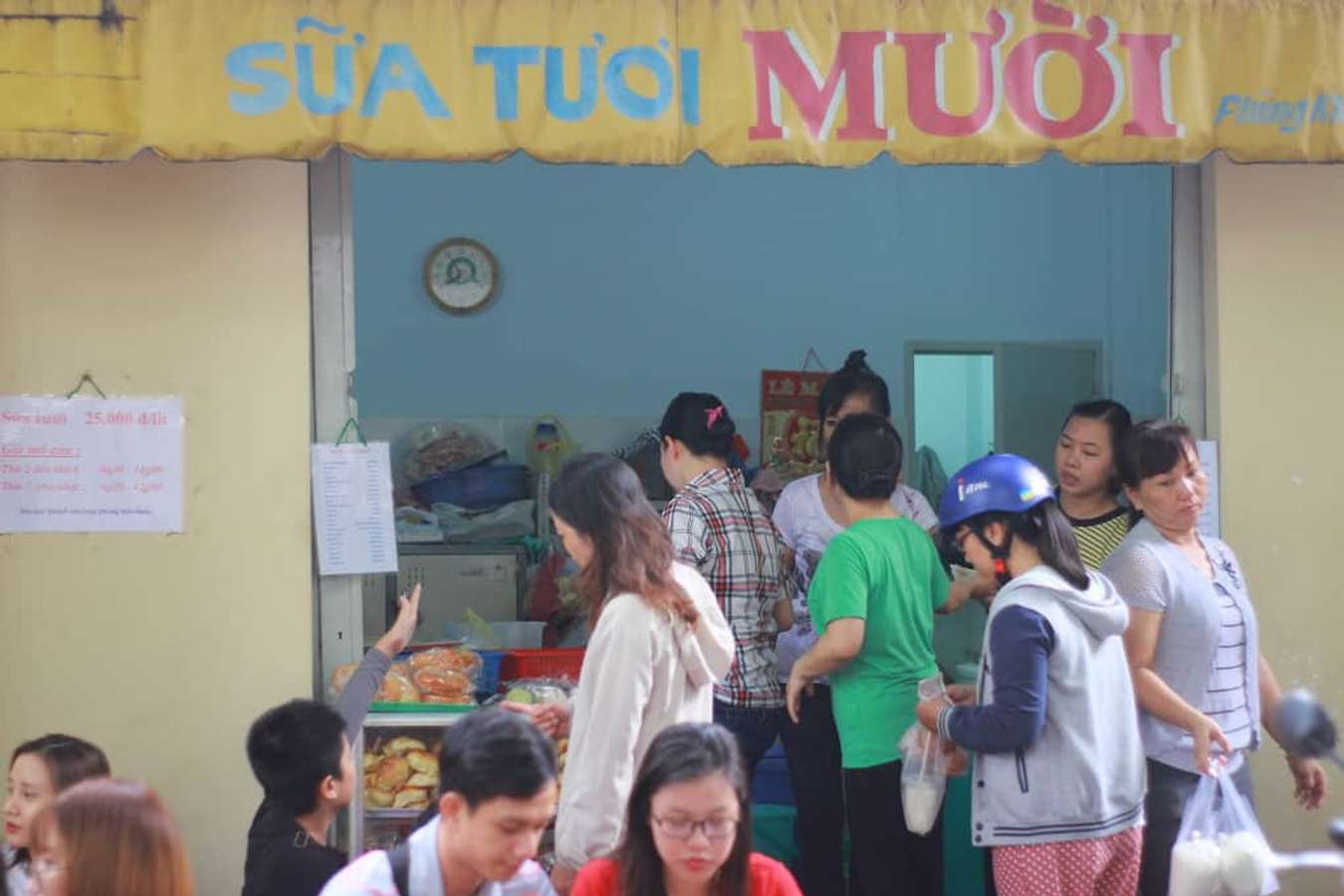 Muoi fresh milk shop is just this small.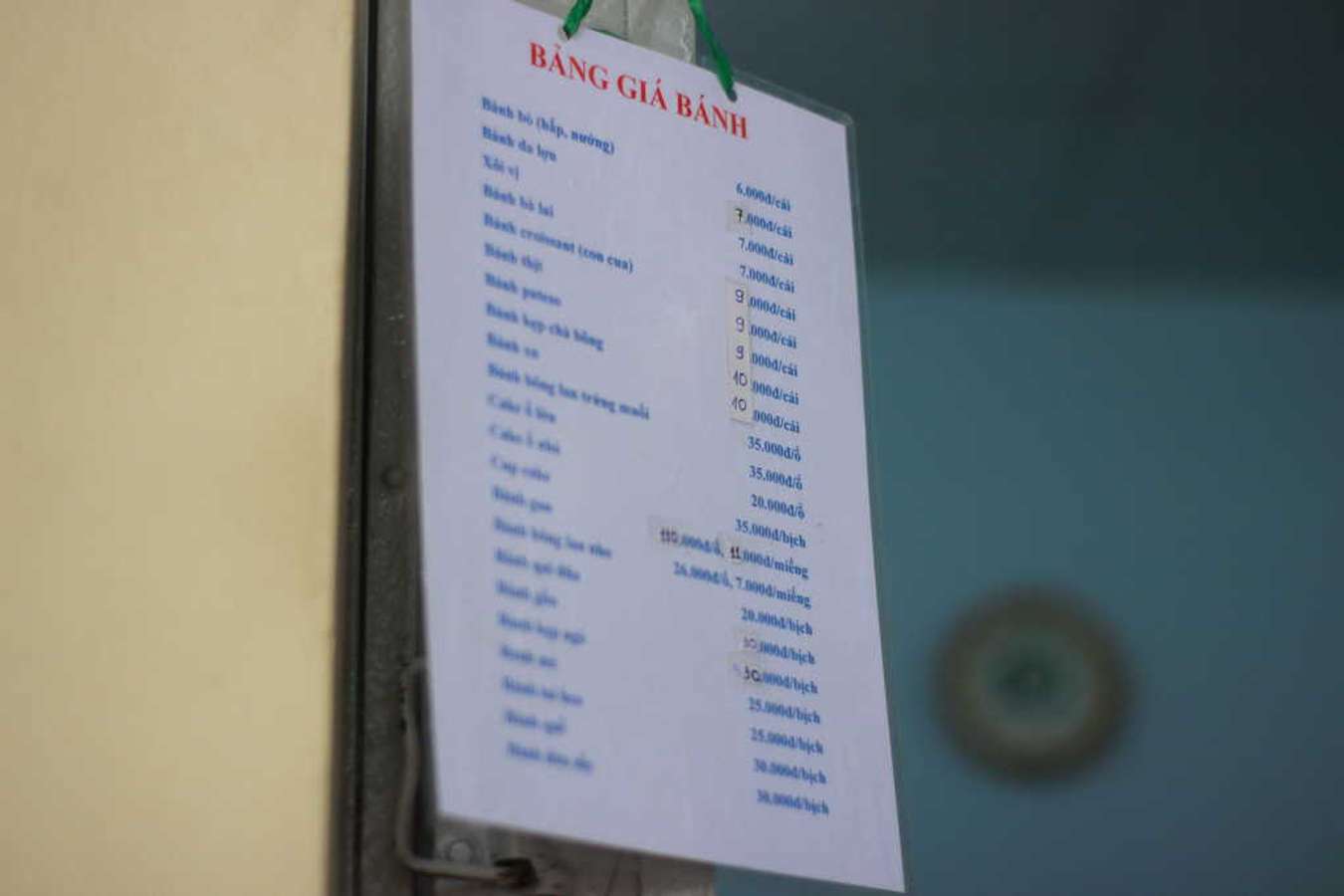 But what does this idyllic 20-year-old milk shop have that customers keep coming in endlessly? It's the cutest owner in Saigon, the shop is family-style, so everything is very simple and gentle. Those are plastic chairs for both sitting and making tables, Saigon people are also strange, the owner told about the first days of opening the shop, there were not many "tall" tables and chairs, but changed to plastic chairs. It's okay, a lot of people come and go.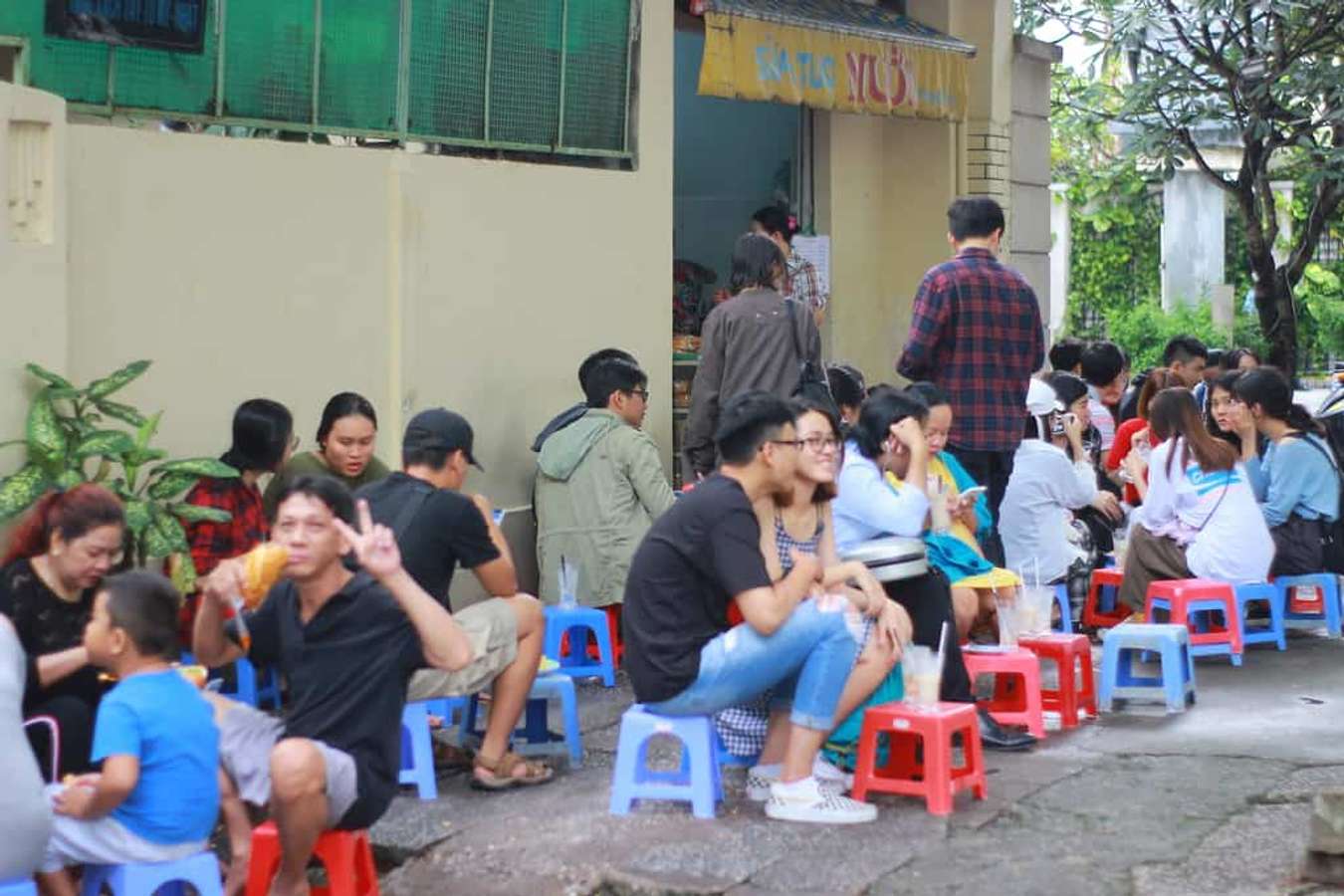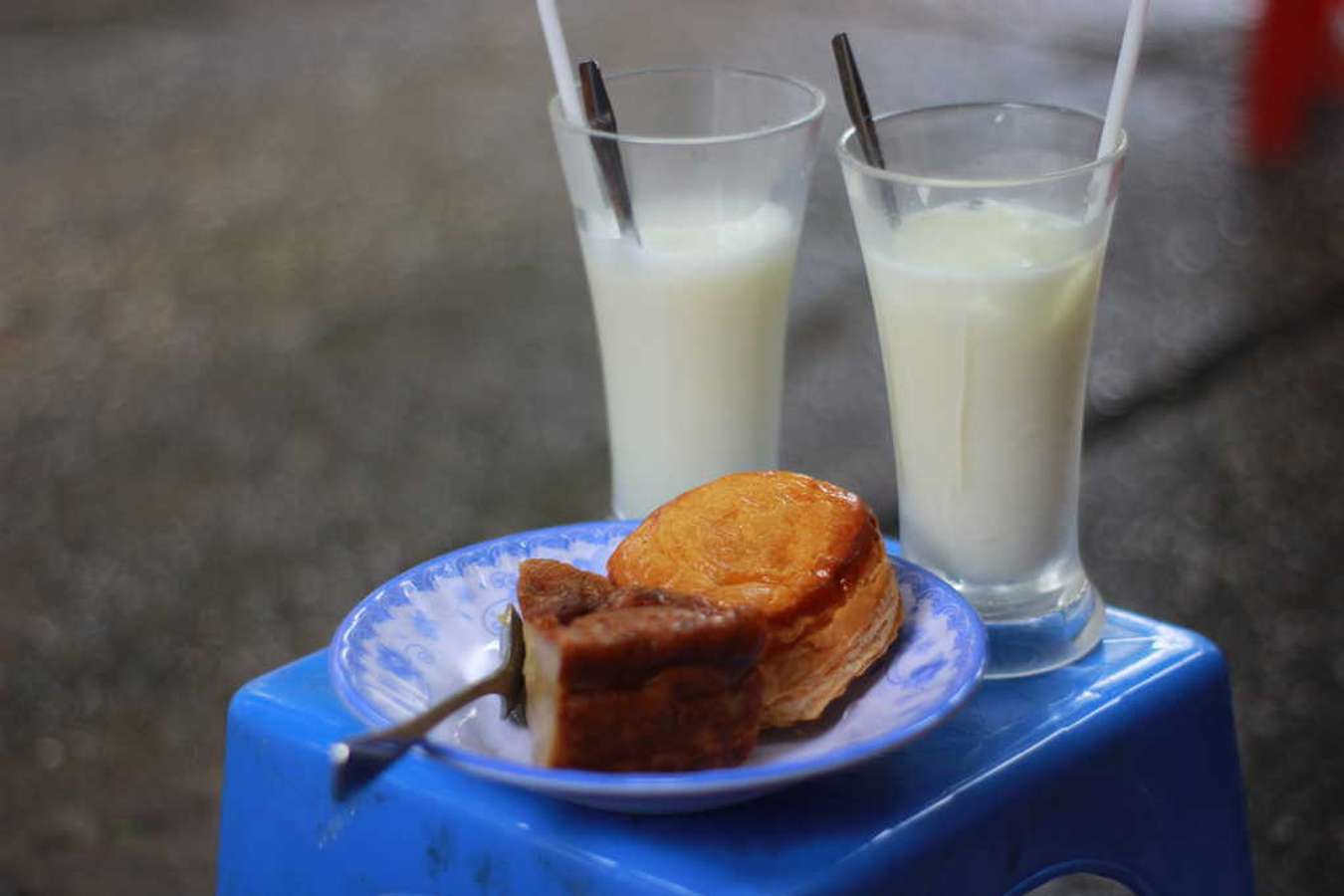 It is a shop selling rustic foods that any age group loves, especially Muoi fresh milk has a cool milk taste, not too sweet, so it is very popular with people to enjoy!
2. turtle Lake
Going to Saigon for a day, no matter how tight time is, without visiting the Turtle Lake, is not considered a visit to Saigon. This work is also known as the International Square. Find your way to Con Rua Lake, you will come to the traffic roundabout connecting Vo Van Tan, Pham Ngoc Thach and Tran Cao Van streets.
Not only a cultural-historical work, a witness to the history of the country, this 50-year-old park is also a favorite hangout place for young Saigonese or tourists. The lake is designed in an octagonal architectural style, divided by borders on a lake, in the middle of the terrarium there is a block of 5 rows of reinforced concrete columns 34 m high, on the top there is an inverted arch. out like petals.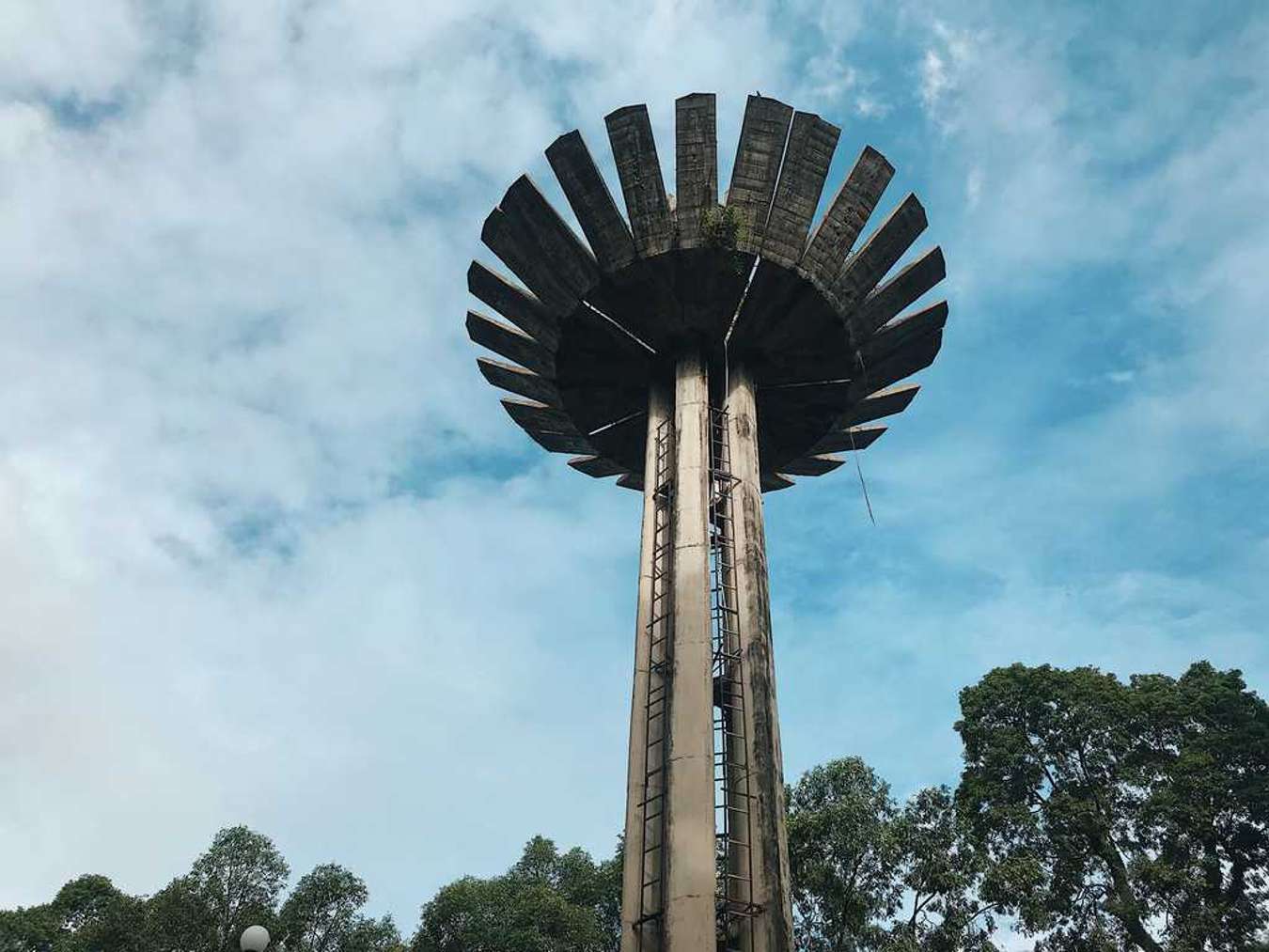 Turtle Lake is an important historical witness.
Go to Turtle Lake, if during the day you can buy a cup of Saigon iced milk coffee at a convenience store and relax watching the street, if you go in the evening, there are many snacks around the lake type.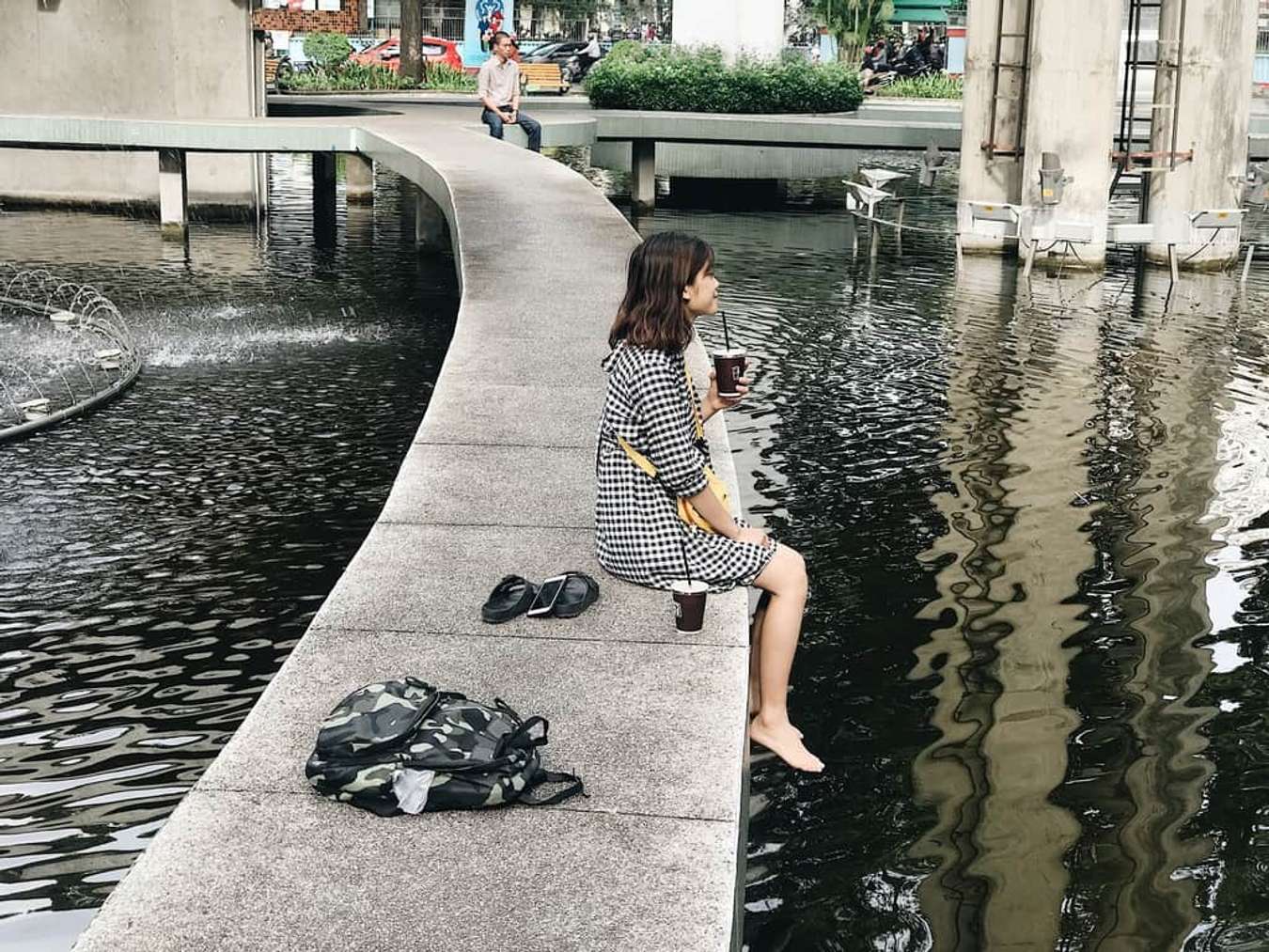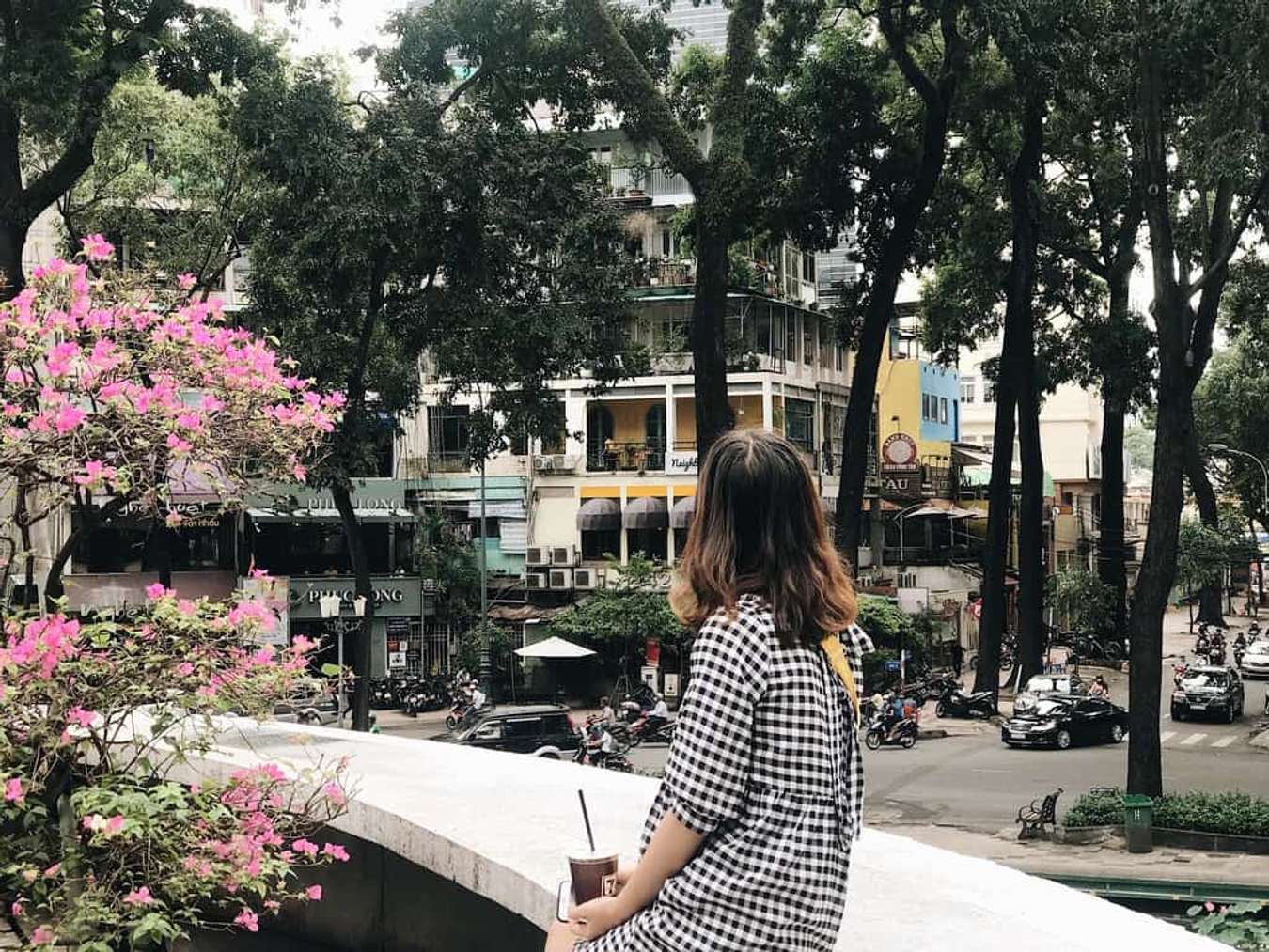 3. Ho chi minh museum
Address: 65 Ly Tu Trong, Ben Nghe Ward, District 1.
Ticket price: For adults, students, and students, it is 30,000 VND / person. For students from 6 to 16 years old, it will be 15,000 VND / person; under 6 years old will be free.
We used to be infatuated with Bich Phuong's Bua Love MV, so on this 1 day trip to Saigon, we visited the Ho Chi Minh Museum. This Art Deco building is your destination. Don't miss it when going to Saigon for 1 day!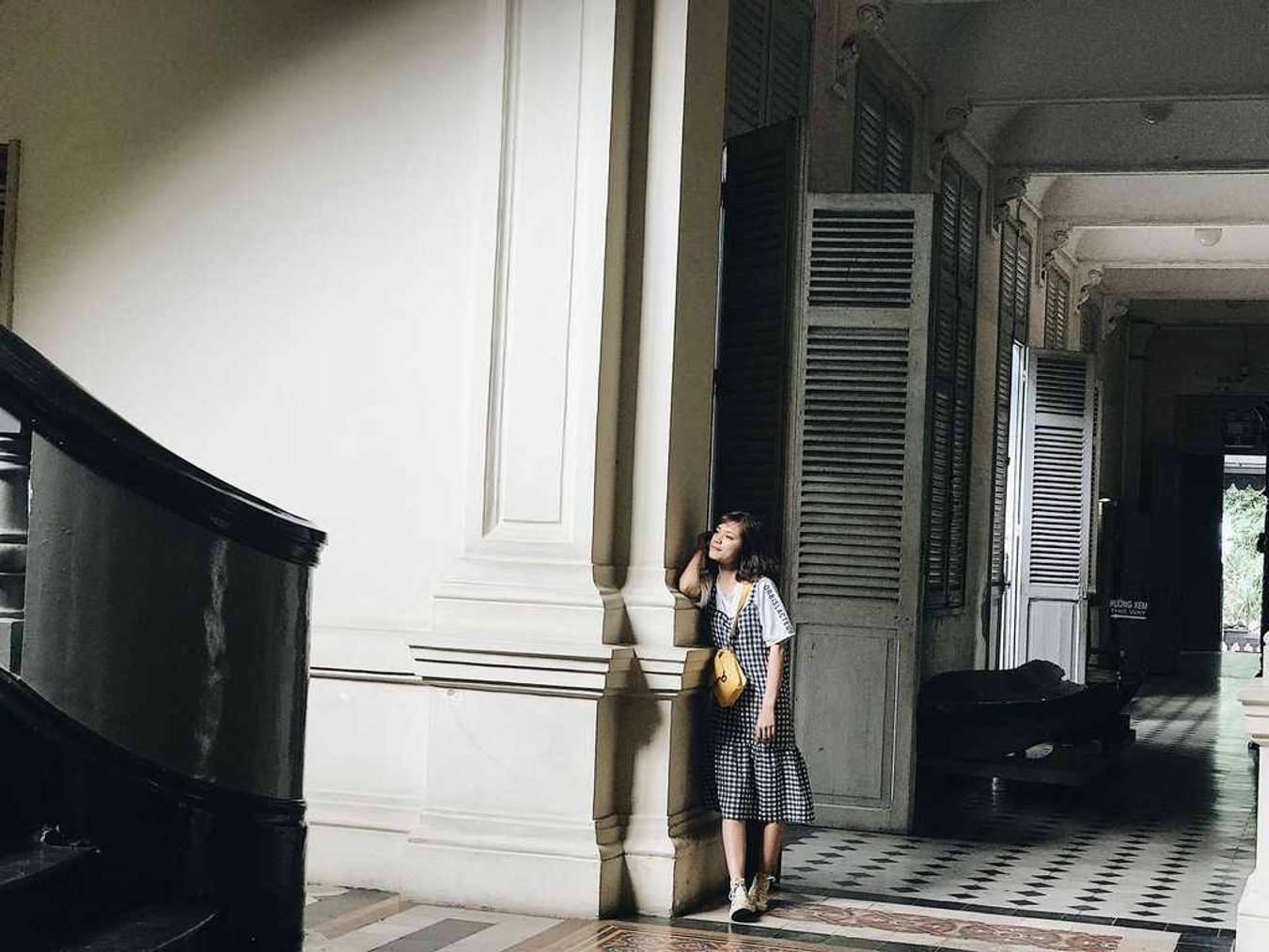 The "divine" corridor.
With magnificent architecture combining two very unique European and Asian art schools, the museum gives you billions of beautiful "pictured" angles such as mysterious corridors, magical spiral staircases, magical spiral staircases, and beautiful scenery. Window view overlooking Bitexco building, unique ceiling arch,…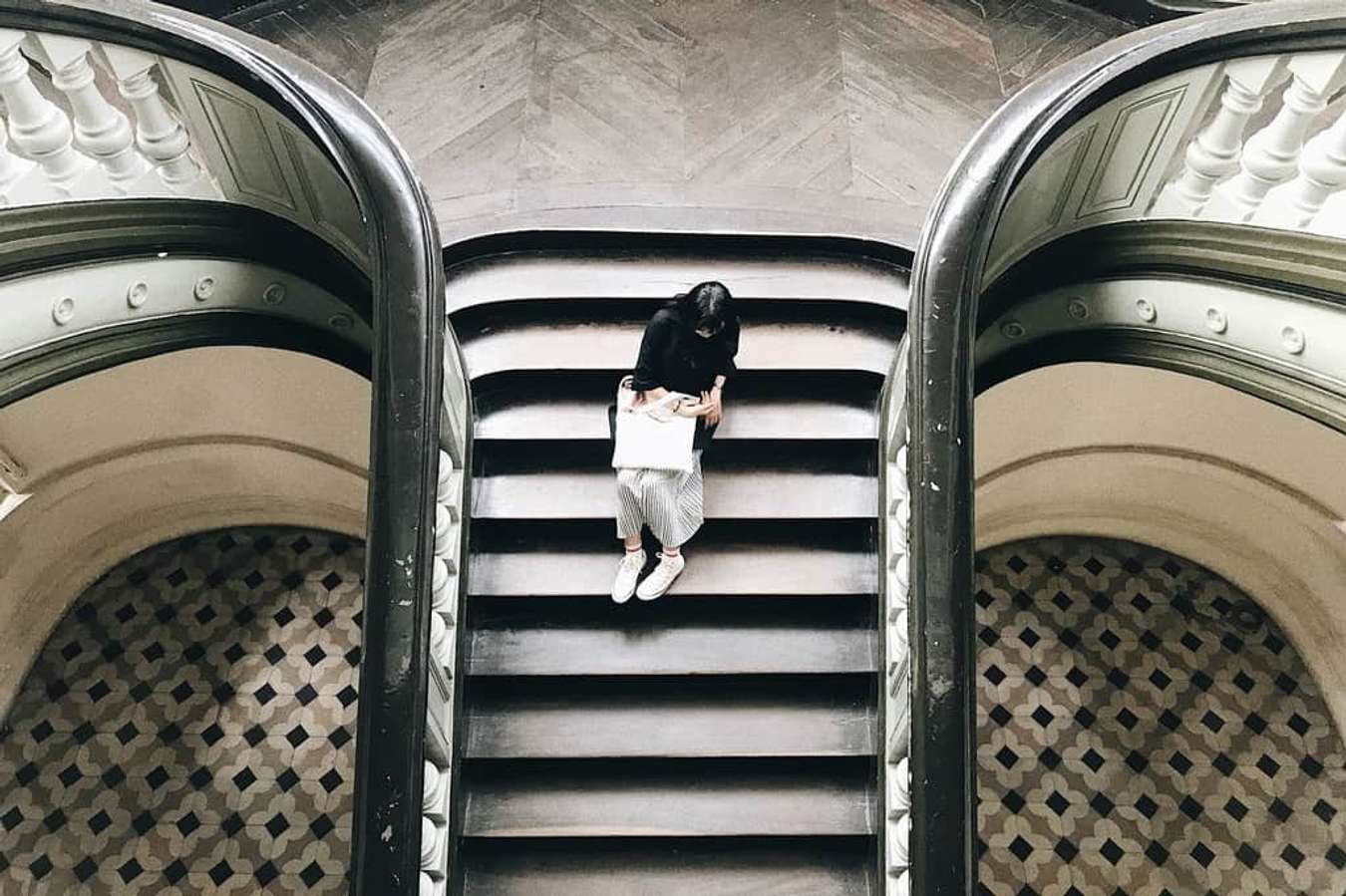 The stairs are full of magic.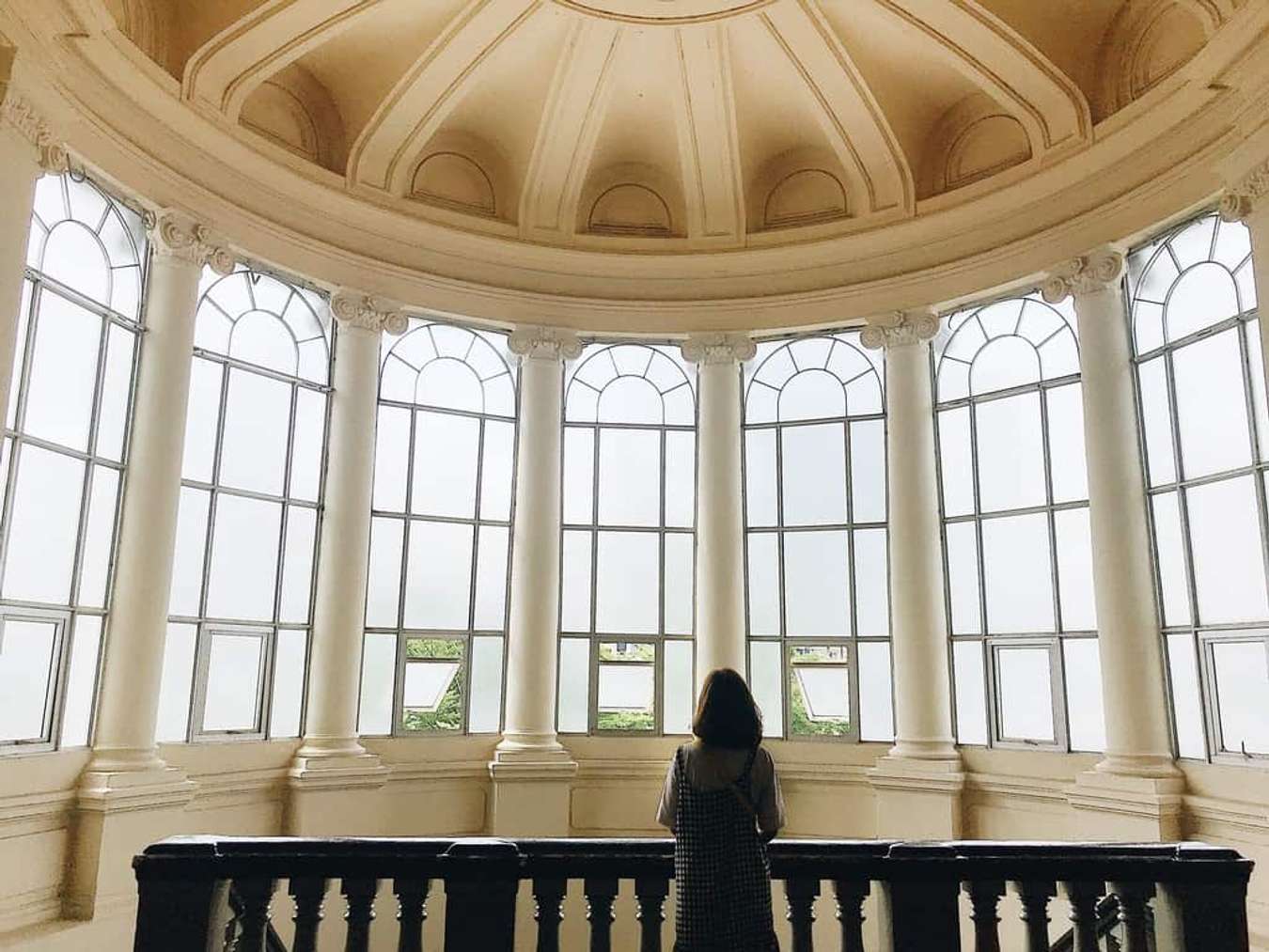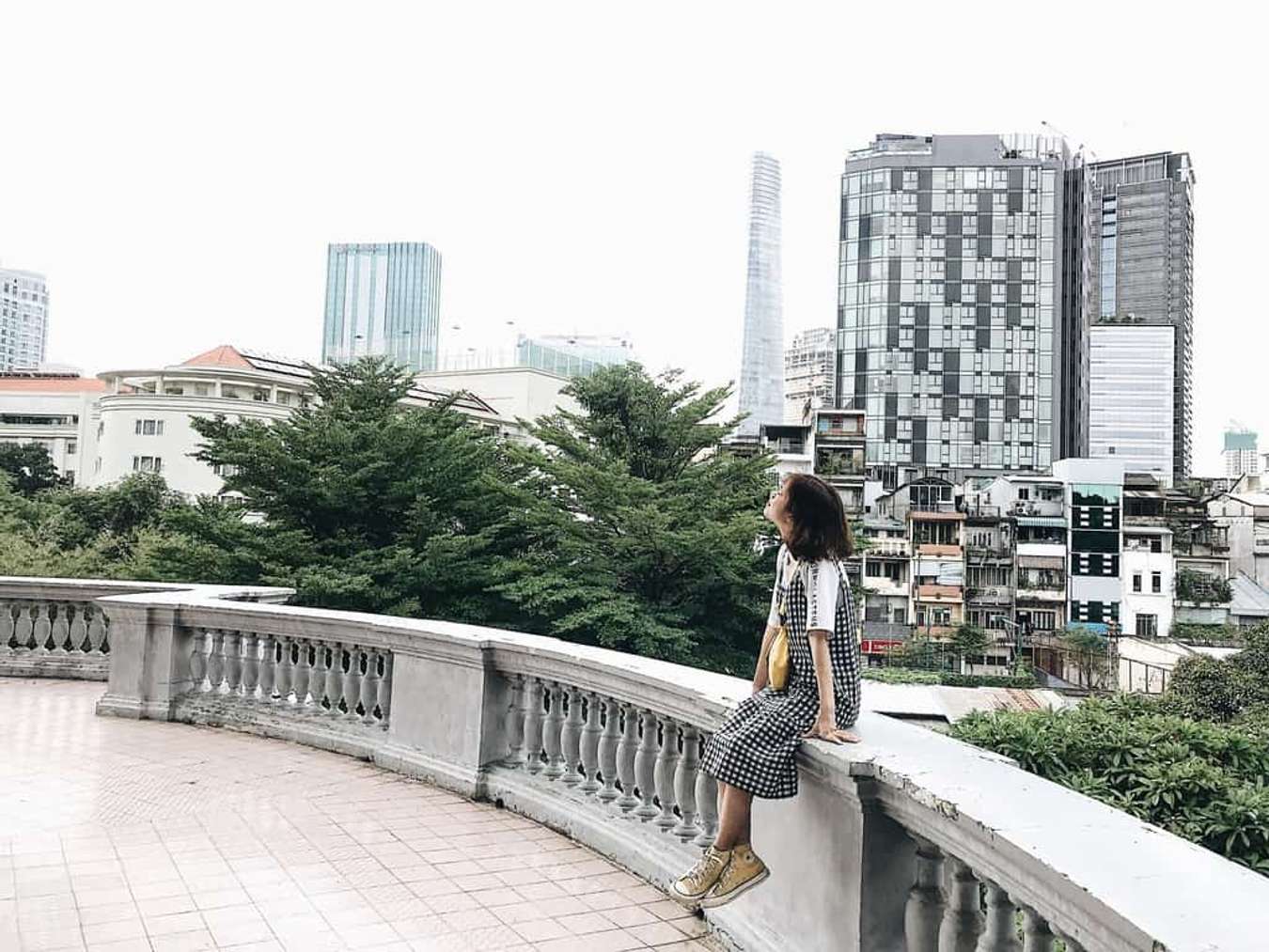 The Bitexco court is far away.
4. Chinatown
The place I look forward to the most in this journey of discovering Saigon is the Chinatown in District 5, District 6. Making a Chinese Street are houses built in the late 19th century and 1920s, It has an architectural style imbued with Chinese identity, is a bustling Lon market, is the Chinese people living in Saigon for many generations.
To this day, Chinatown still retains its traditional identities. Chinatown of people from Trieu Chau, Fujian as a unique feature in the picture of the pearl of the Far East – Saigon. We chose the bus to move to this Chinatown because it will be much more interesting when you just walk and watch the lives of the people, the old-fashioned dormitory buildings, the rows of rows of streets. Shops along the way hang Chinese signs,…
Ha Chuong Assembly Hall
Address: 802 Nguyen Trai, District 5.
Making the unique feature of the Chinatown, it is impossible not to go to the Hoi Quan. Ha Chuong Assembly Hall (also known as Chuong Chau Assembly Hall, Ong Huoc Pagoda, Ba Ha Chuong Pagoda) has the unique architecture of the Fujian Chinese people with the roof tops sagging and the tops of the blades and the tops of the roofs soaring. giving the club the shape of a boat.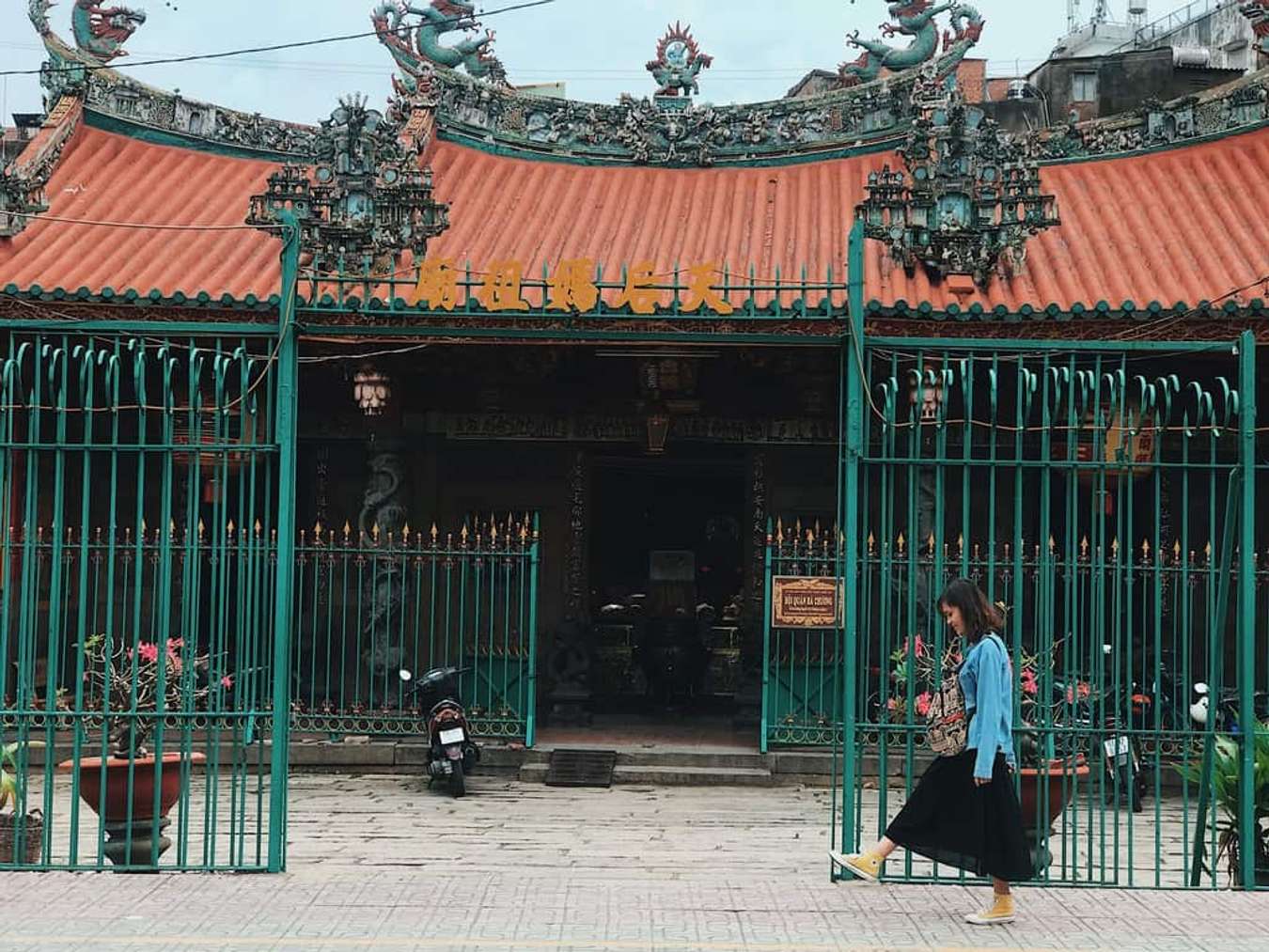 Outside Ha Chuong Assembly Hall.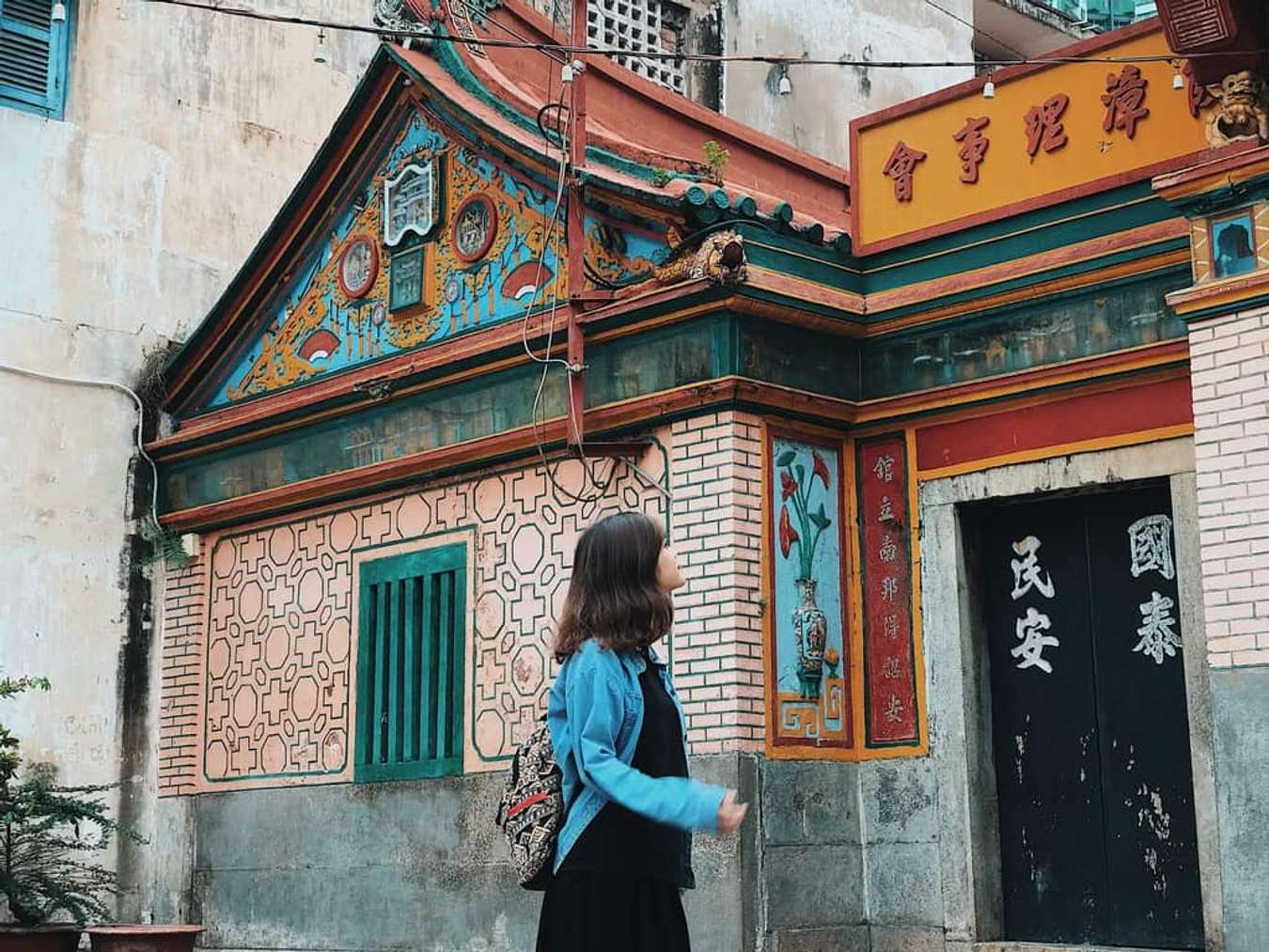 The architecture is typical of the Hokkien people.
On the roof, there are plaques of statues made of mortar and pieces of earthenware and glass of different colors. The main color in the Assembly Hall is red. Stepping into the Assembly Hall, all worries and worries are like staying outside. I feel a soothing, peaceful feeling from the scent of incense.
Tue Thanh Assembly Hall (Ba Temple)
Address: 710 on Nguyen Trai Street, District 5.
Next to Mach Kiem Hung school, Ba Thien Hau pagoda – the oldest temple in Saigon – has a fairly large area and has typical Chinese architecture: on the roof, roof and porch The pagoda is densely attached with round statues, Ceramic reliefs look very eye-catching, materials in Hoi Quan are brought from China.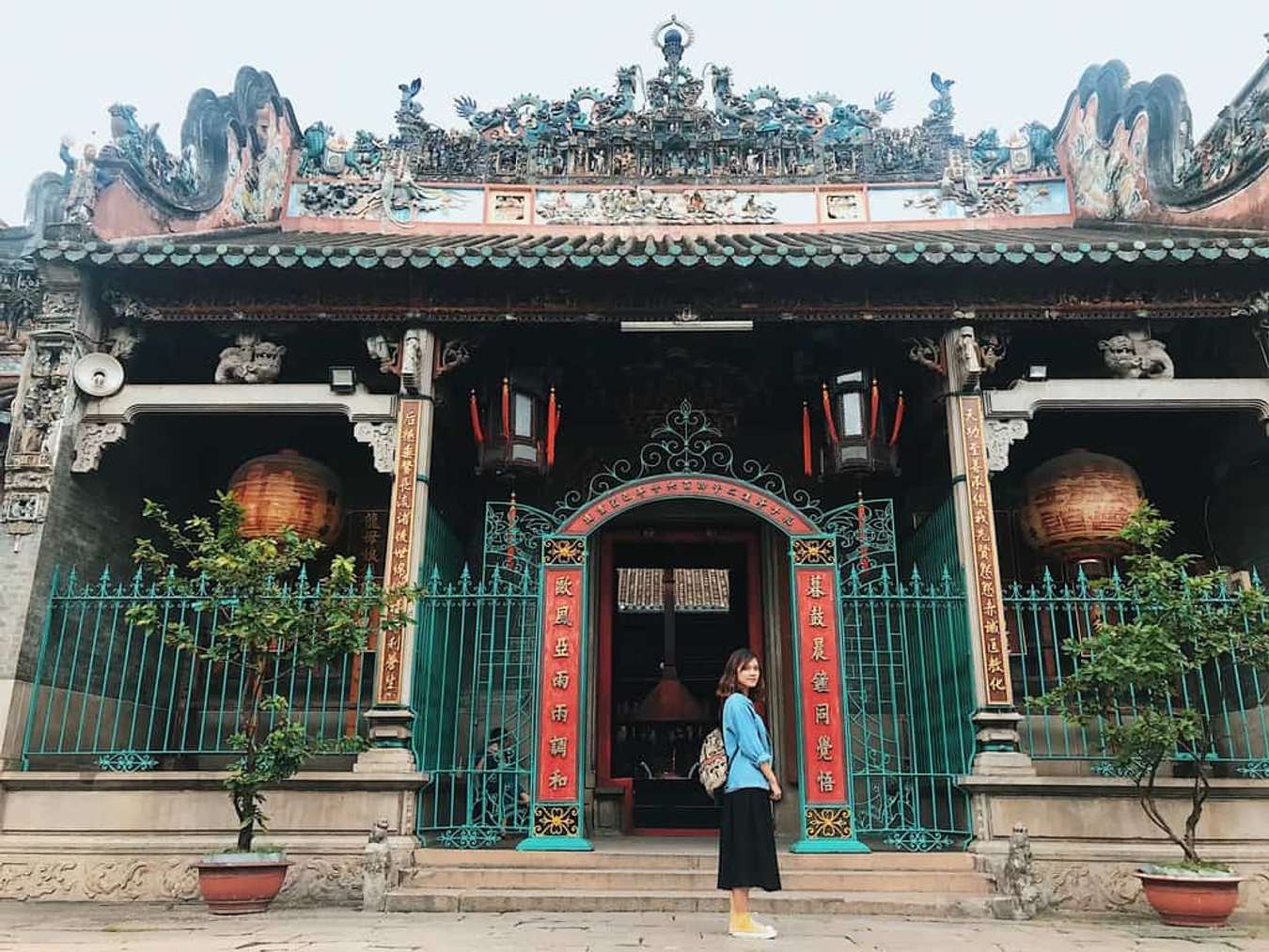 Outside Ba Thien Hau pagoda.
The shrine in Ba Thien Hau pagoda consists of 3 main shrines: the money hall, the main hall and the main hall decorated with pictures of flowers, leaves, objects of the four spirits and diaphragm, couplets, and yellow signs. The main shrine worships the statue of Thien Hau Thanh Mau. Inside the temple, there are many antiques from previous centuries that are meticulously and delicately crafted. The assembly hall not only attracts a large number of Chinese – Vietnamese people to pagodas and sightseeing, but also many foreign tourists and Buddhists come to worship.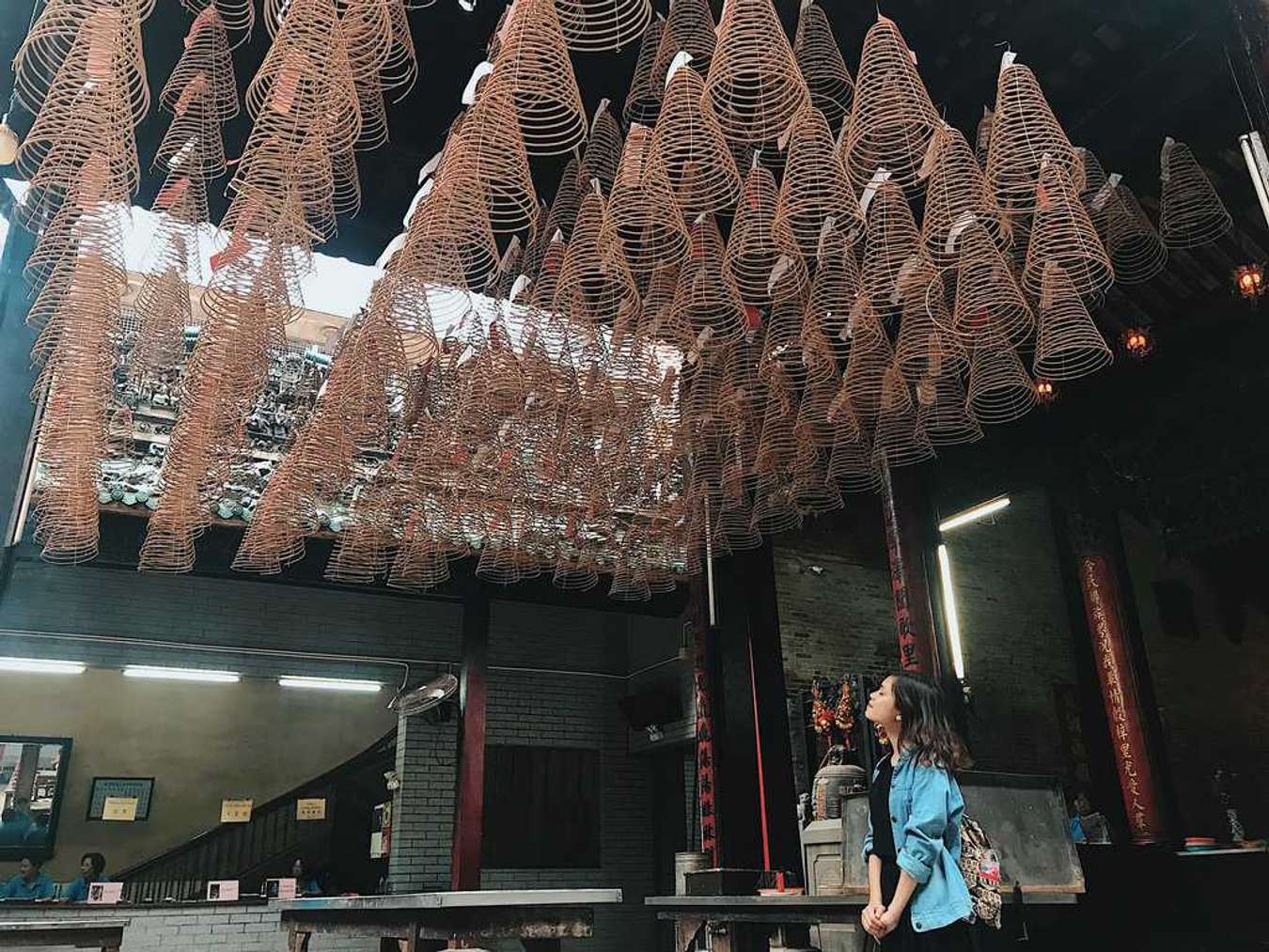 Each hanging incense ring is a talisman for peace and luck.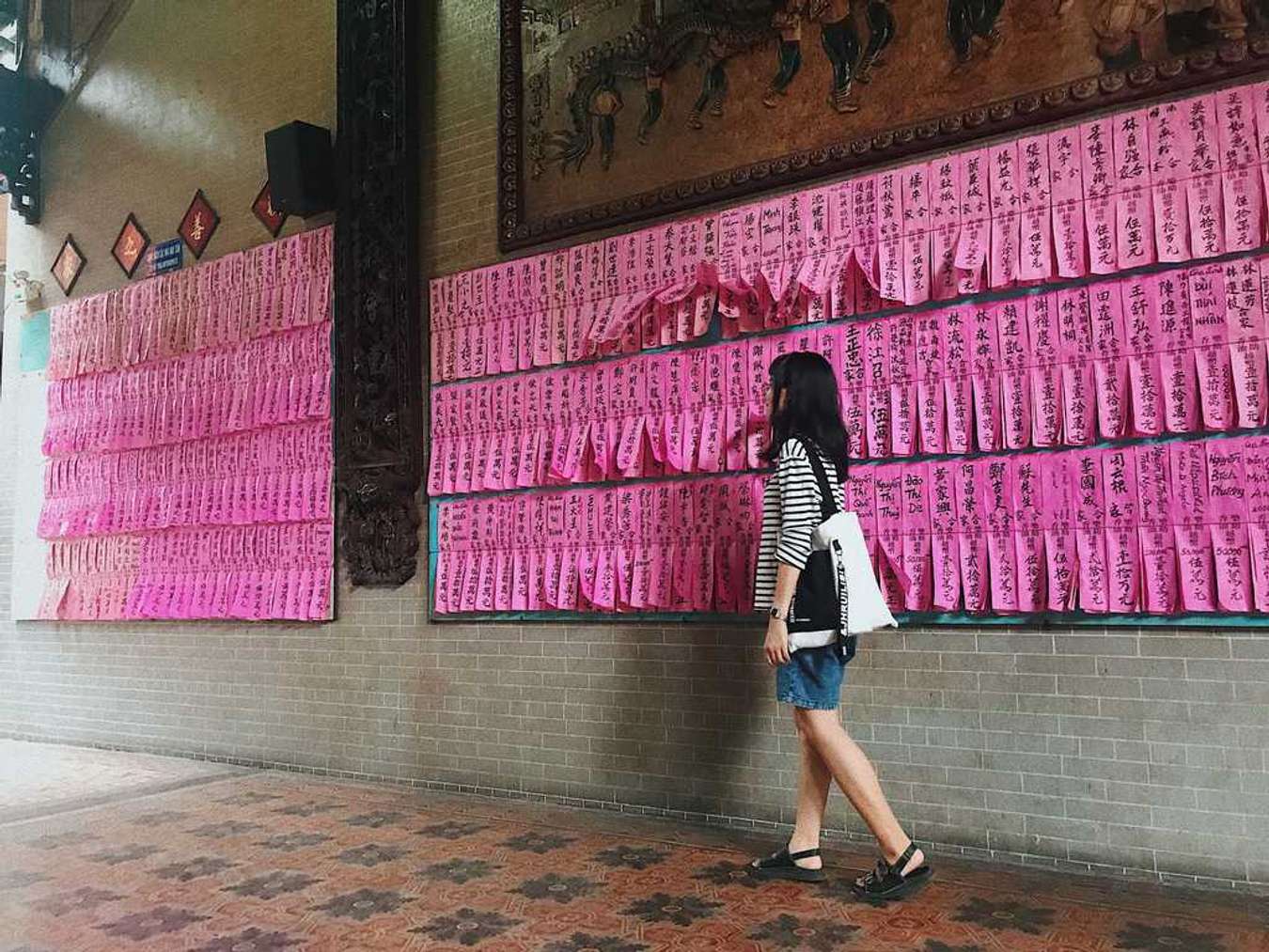 Floral brick background was brought from China.
Tam Son Hoi Quan
Address: 118D Trieu Quang Phuc, District 5.
Our next destination in the journey to discover the Chinatown is Tam Son Hoi Quan. This place has bold architectural style of the Fujian people. The floating pagoda with the main bright red color brings a rustic beauty, simple but also very solemn and pure. The temple is very respectfully worshiped by families wishing to have children, worshipers often gather in front of the Notre Dame altar behind the temple.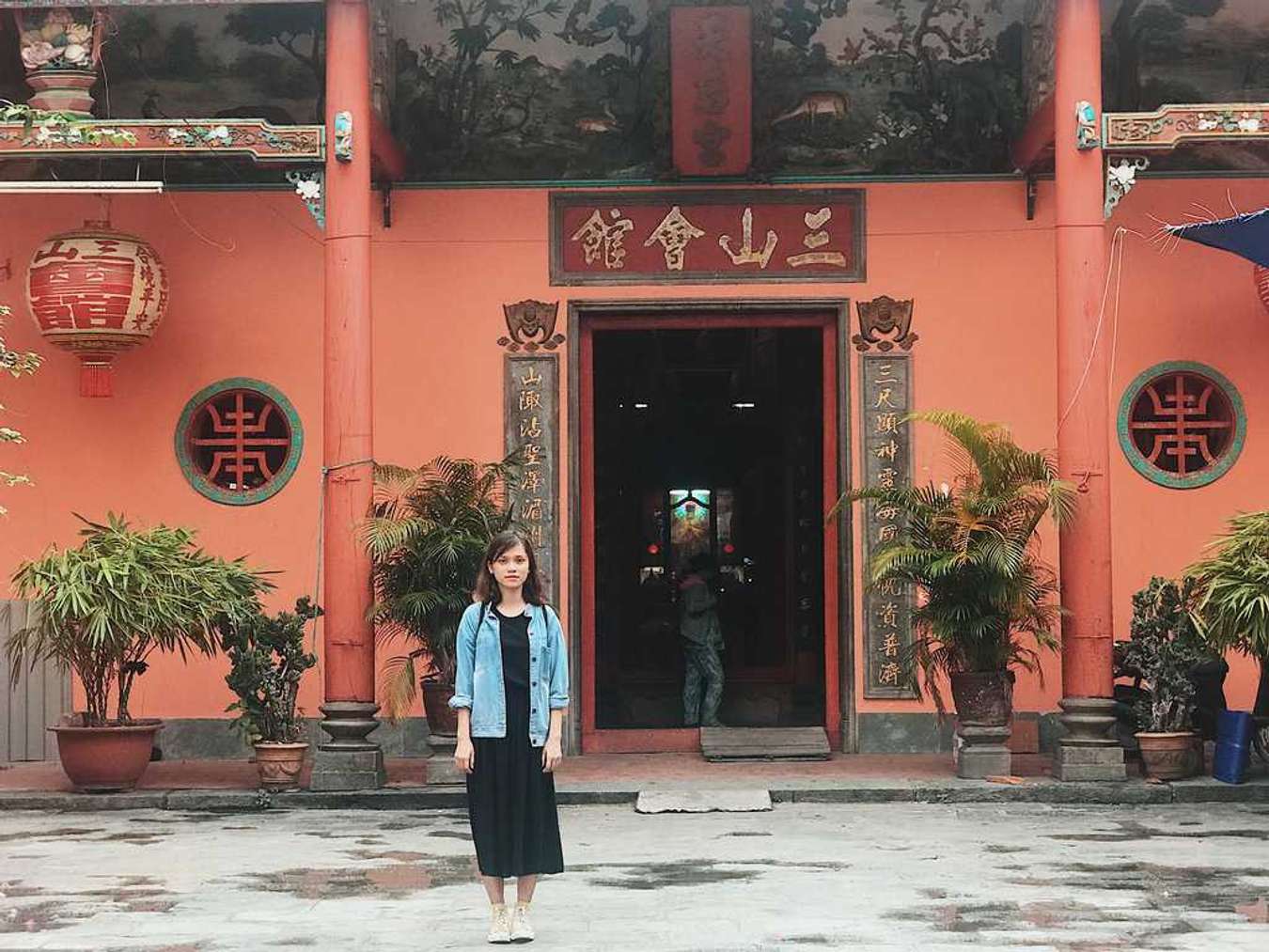 The dominant red color in Tam Son Hoi Quan.
We entered Tam Son Hoi Quan on a weekday, so there were only temple guards and a few tourists like us here. The space is quiet, sometimes the sound of the wind whistling through the branches outside the Assembly Hall. Outside the yard, a corner is a bunch of pink bougainvillea flowers blooming, branches hanging down to form a shade in the yard. The big red Chinese lanterns make me feel like I'm lost in a foreign land!
Hao Si Phuong
Address: 206 Tran Hung Dao B, District 5, outside the alley is hung the sign "HAO SU PHUONG",
Although located right on the street, but if you don't pay attention, you can still pass through this alley. The alley is the main living place of the Vietnamese-Chinese community. In Chinese culture: In front of each house, there are two altars to worship Thien (heaven) and Earth land, or in front of the door and inside the house, there are Ngu Phuc Lam Mon – a red piece of paper with outstanding yellow printing brings good luck and peace.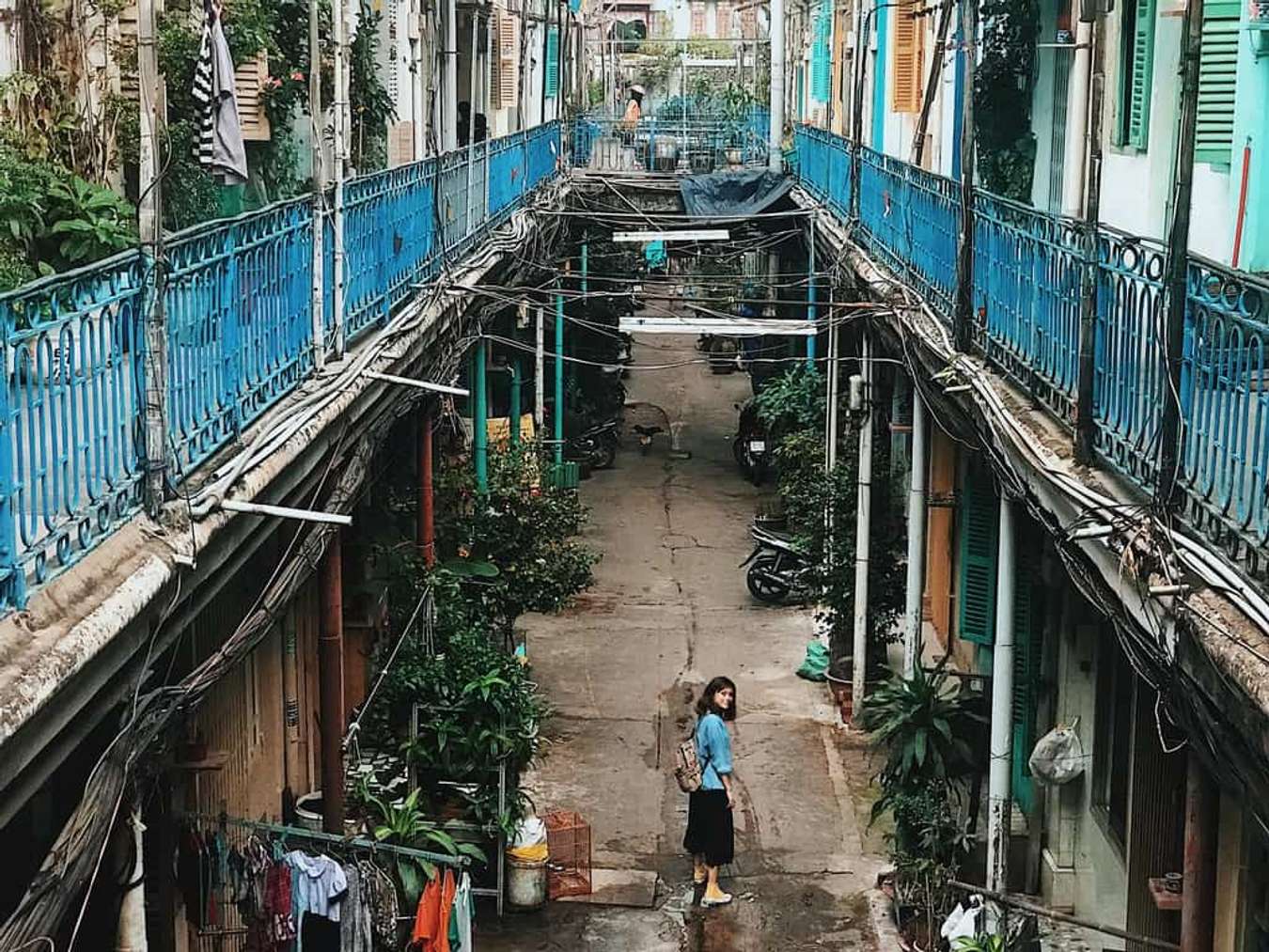 Looking down from upstairs.
Coming to this "peaceful oasis", you will surely encounter those typical cultural colors. In a place a few steps away from the main road that feels like two different worlds, a bustling, flashy place, a place where time seems to slow down every second to be able to live longer and deeper.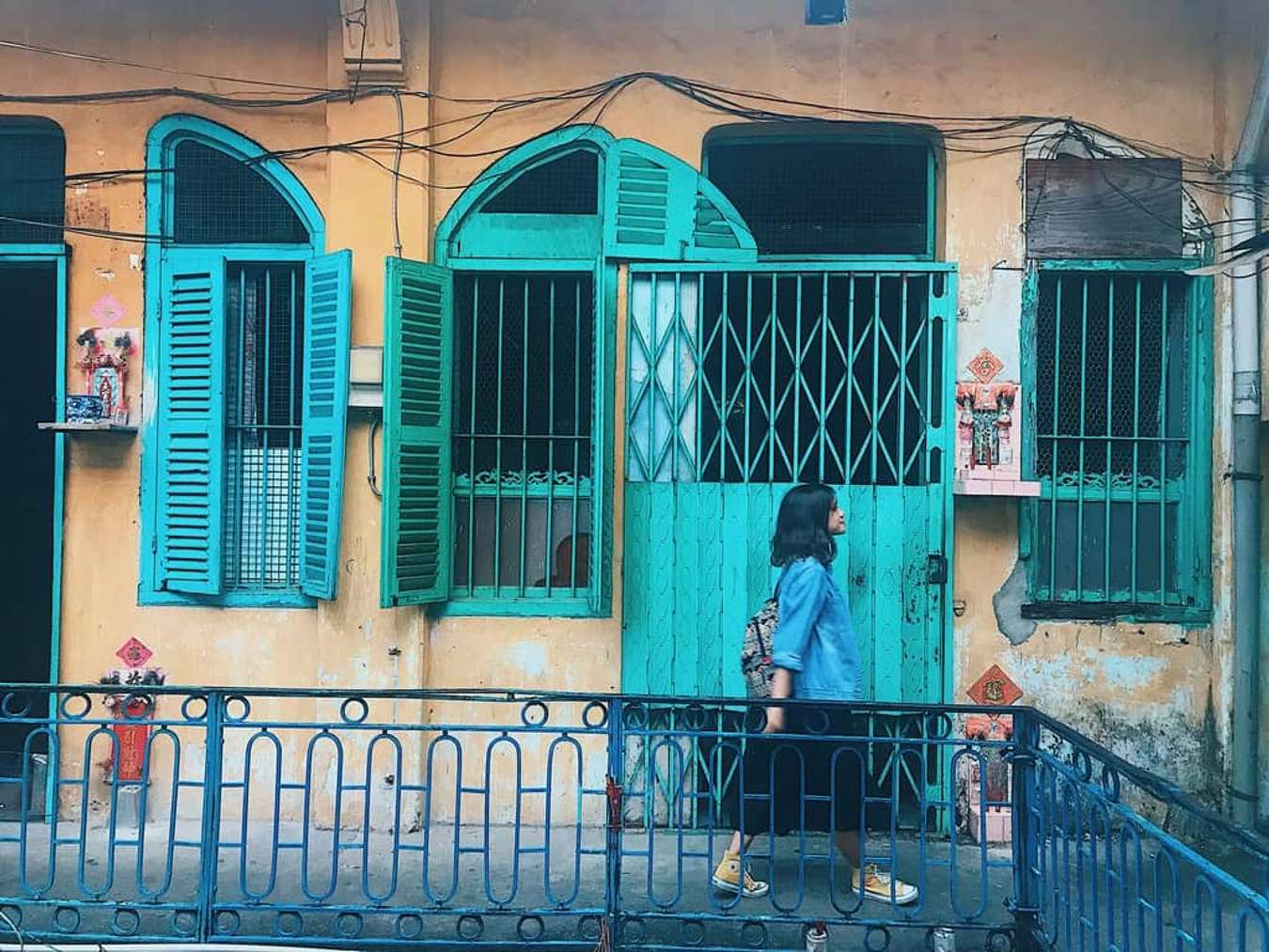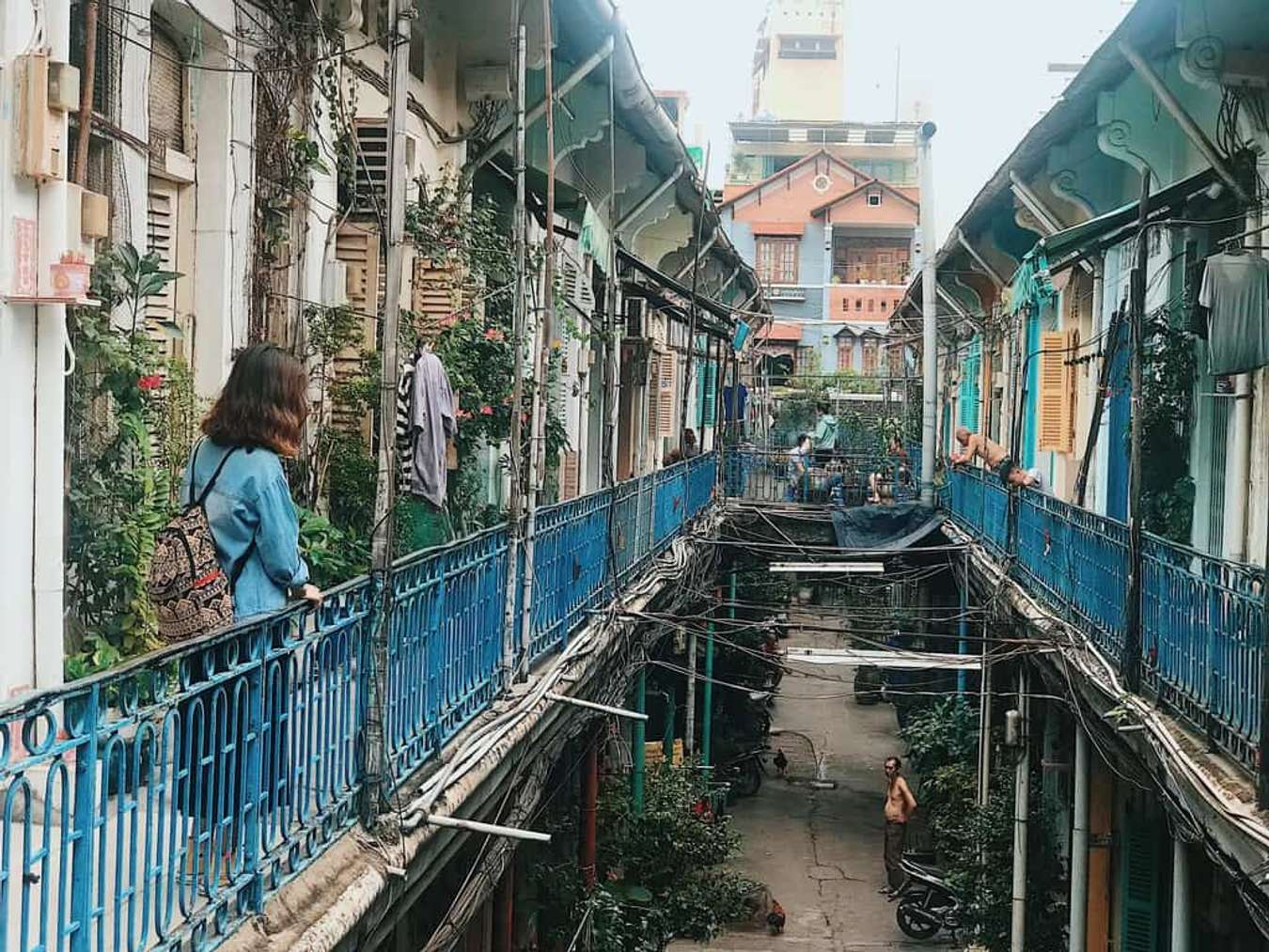 As beautiful as TVB footage.
The old stairs led us to the upper floor of the "House in the Alley" area. The houses with ancient architecture mixed with modern eye-catching colors are the main highlight of the alley. For more than 100 years, Hao Si Phuong has not only been a place to live but has become a cultural mark of the overseas Chinese community in Saigon.
If you want to go to Saigon for a day but don't know where to go, you definitely cannot help but check-in this Hong Kong-style alley.
5. Mien market – Cambodia market
Address: Go straight to alley 374/51 Le Hong Phong, District 10, or go from Ho Thi Ky market to
Our final destination is Cambodia market (also known as Mien market) – the market is over 20 years old. Cultural characteristics of the neighboring country by the signboard with the words Cambodia next to Vietnam, the layout of the market is very separate. This market has been around for 20 years, following the fluctuation of the flow of people from Cambodia to Vietnam.
The Cambodian specialties at the market are mostly cake, dried, fish, vegetables, vermicelli, fish sauce, jaggery and other necessities brought from across the border. Don't forget to enjoy the unique Cambodian food!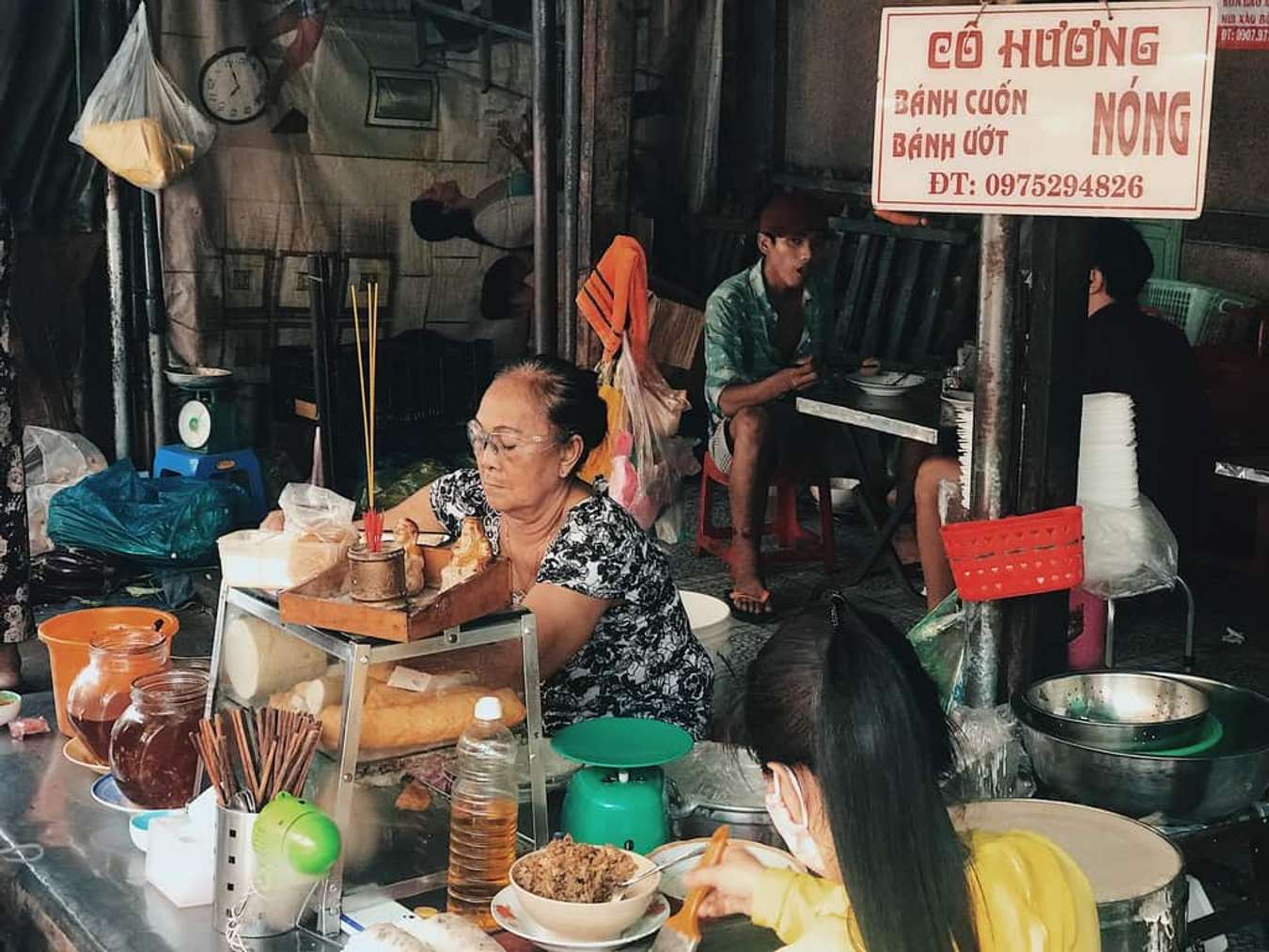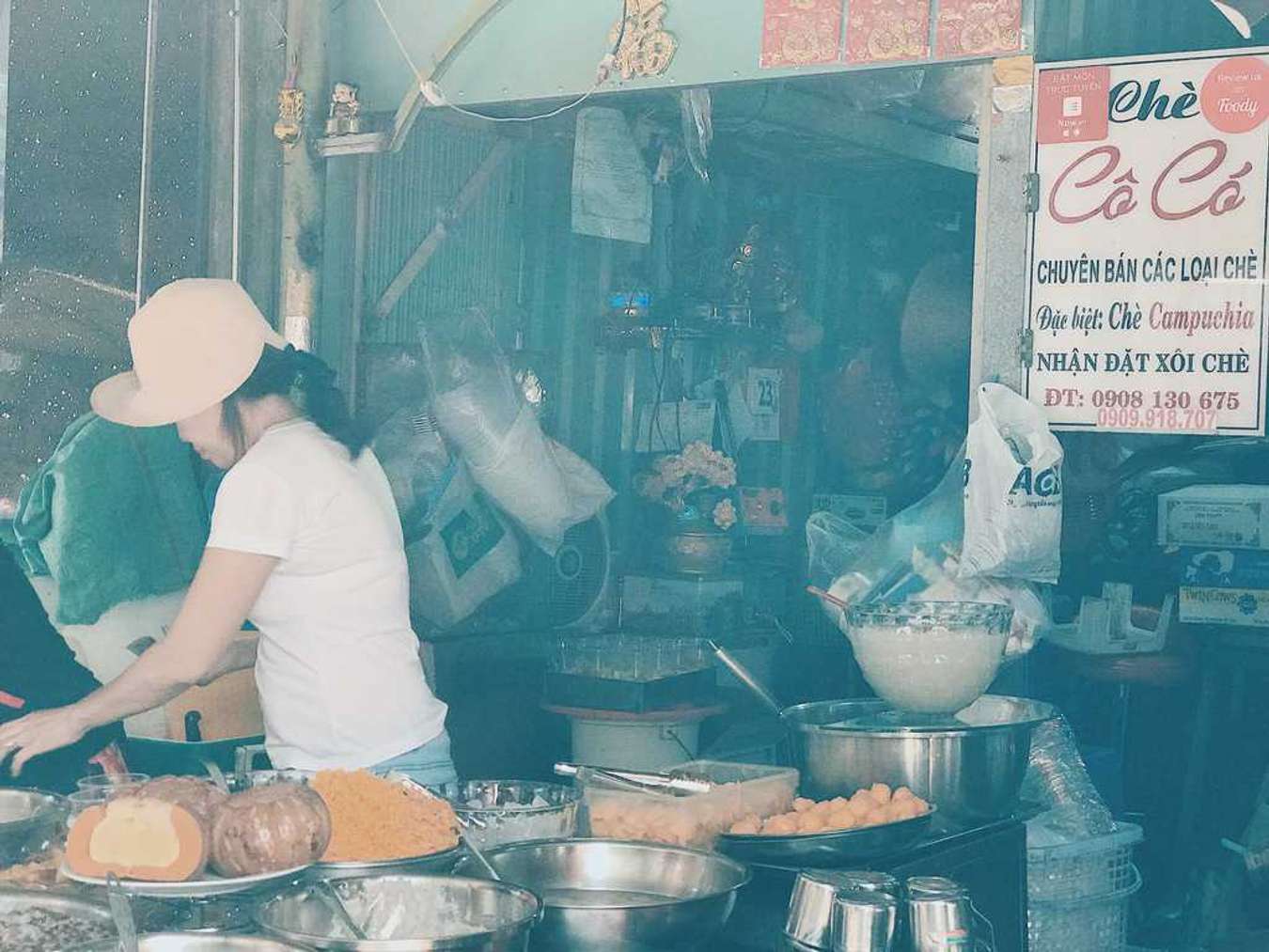 Cambodian Tea.
How is the city where you set foot? After going to Saigon for a day, we realized that the city we came to was a Saigon with many different colors, the color of the Chinatown in District 5 with the traditional cultural features of the people. China, the color of the Cambodian market, the color of the Ho Chi Minh Museum, the color of Muoi fresh milk,…